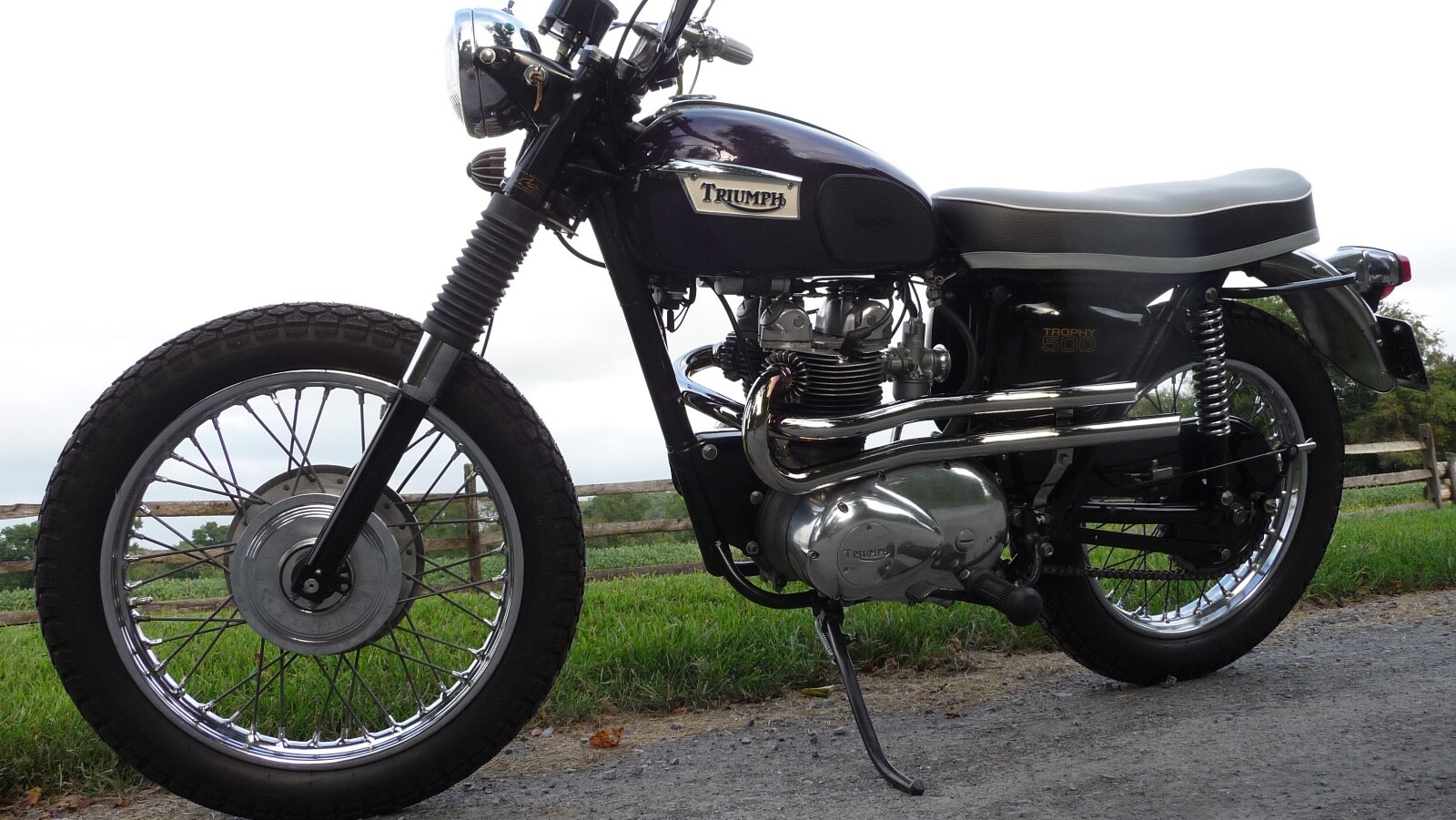 Bids: 21
Time Remaining: 2
Days
14
Hr
43
Min
25

Sec
So Legit... eBay is Paying Us To Show Y'all These Bikes
(Expand & Learn About Creating Your Own Ad Like This Absolutely Free of Charge)
If You're Selling A Dirt Bike...
We're Providing 100% FREE Exposure
We Use A Non Invasive, User Friendly Interface
You Get To Provide Only the Info You Want to Include
All Ads Are Human Moderated & Constantly Monitored
No Sign Ups, Credit Cards, Email's or Passwords Required
Constantly Improving and Roosting the Competition Since 2009
Build Your Ad In Seconds Under More Privacy Than Craigslist or Cycle Trader
Questions or Concerns? Send Me an Email
Here You Can Review eBay's Program Which We Participate In
Here's More About It:
1970 TRIUMPH TROPHY 500 T100 Competition Matching engine and frame: VIN T100C AD37247Assembled in January 1970 for the model year production build between August 1969 through July 1970.8,258 miles (TMU)Currently titled clean by seller in Pennsylvania,right outside Philadelphia. IN THE MIDDLE OF SPRING CLEANING, AND IT'S TIME TO SAY GOOD-BUY. Presently getting lost in the back of the garage and my mind, dusting off memory, the bike and the tales. Digging deep, finding comfort in the simplest of things… Surely, anyone could live life without a Trumpet 500, but why would you ever want to? THEN. Spring of 1970. It all happened in vivid Kodachrome, as strong as black and white. With the February issue of Cycle magazine's road test sacredly rolled up in his back pocket, my uncle rolls out of a west coast showroom after a tropical vacation from this deferred and preferred destination no more. Now landing in Jacaranda. A purple fizz of metallic cellulose laquer. A different tropical color. The color of purple mountains majesty, over fruited plains. Freedom, now from sea to shining sea. Oh, a tank of purple fishes! Swimming laughing through your handlebars. Knowing right there and then you have to take her, only her with you, through that heartland on a Triumph. Whoa! Magnificent eminence! Resplendent glory! Paid down in hard-earned cash. A purple violet as hard to forget as the first crocus of Spring or the magical luminescence of those psychedelic streetside canopies in Southern California gone full gonzo bloom—going boom, boom, boom, boom—knocking you right out, right off of your feet, especially when you've been holed too deep in the quagmire of jungle mud waiting to get back, just to start over… This uncle, you might know the kind. While not by blood, but by familial influence. The strong mentoring individual who knew how to live life, and still remind you every day of yours—if we're that lucky to ride on the shoulders of those kind of giants. A breed apart. "This is the fire-eater that put the 'scram' in scrambler. It's been the Grand National Enduro Champion seven years running. Yet on the road it behaves like a sweetheart. Try this one, and you can forget about the rest," read the straight-to-your-face sales brochure from Tri-Cor, Duarte… Braced handlebar, high pipes, surfboard striped tank and stainless fenders. Folding pegs, skid plate, enduro headlight and one gauge, a mere suggestion of speed. No need wasting time looking back, as mirrors were optional. Triumph built a race reputation on the revvy 500, producing AMA Grand National champions on the track, dirt and in the desert. T.T., for Truly Triumph. Forget circus showmen Dylan, McQueen and Knievel, why not be a regular Romero, Nixon, Aldana or Ekins for a day? The 500 Schwinn twin, a perfectly balanced mid-weight motorcycle personality for over thirty years, was always cool, always a winner. For the first few endless summers of seventies soul, the 500 moved between friends in Big Sur, holed up in an A-frame that was built around a patriarchal redwood off Nacimiento-Fergusson Road where the door was never locked and the Union key stayed in the ignition. A yucca pack and Navajo blanket nearby. The vinylette tool bag behind the left side panel stashed just enough sinsemilla to get started, and get by, soul surfing the rolling turns of El Camino Real, only stopping to oblige a sweet hitcher's thumb and beaming, blinding sunshine smile to savor the deep blue view and roll one, Zig and Zagging without sharing a word in need to explain… Sans souci, there's a few faded road trip snapshots around here somewhere, if I can find them to toss back under the seat. Over the years, the 500 was luckily stashed for a long while in one piece, then in the Sierras without wearing a sissybar or peanut tank, then retired east to North Carolina before Pennsylvania for this pitstop, ducking the decades of bad reality shows sacrilegiously hacking the past with torches and profanity between Jesse and Paul. AND NOW? A JOY RIDE TO A MIND TRIP. The 500 is in very good condition, cosmetic chips, hickeys and all, reflecting care and respect while inspiring outright rowdy enthusiasm, if not a riot of violet. It runs mannered, wild, tracks and stops with glee. It tickles and fires right up, eager without issue, revs a rowdy racket and wakes up every analog sense currently deadened by overstuffed couches, working from home and the numbing excessive screen time of Netflix, Hulu and Youtube, where everyone else is living your life. So here's a not so gentle reminder to get loose, get lost, wander and just plain wonder. But caution: overuse or late night tears will devalue local suburban real estate and invite neighborly intervention and forced time outs. For quieter skin in the game back on the bench, the only notable maintenance chores, maybe for regular use, or not, would be replace the lazy kick/shift return springs over a pint or two if the sunshine daydream is too relaxed for the particular wanting it just, right. The top end was done not long ago and the bike runs really well, absolutely free, has crisp throttle response, solid compression and hits every shift while connecting an exhaust note to the widest grin possible while eyes are pissing tears of joy, even when it's just parked in admiration, sitting quietly over in the corner, as is most of the time. Drooling a drip, tires going soft. Like all our once heroic uncles. CONCOURS RESTORATION AVOIDED. IT'S CENTRAL COASTAL SOUL STILL AUTHENTICALLY INTACT. Leave over the top for Pebble Beachers. Best to wear a bike in, then wear it out. Sometimes make do, just not without. Mechanical wear items have been replaced along the merry way. This bike rips more comfortably than a faded favorite pair of Levi's in a hula-hoop. RECENT SERVICE TO GET ROLLING AGAIN: Never mind the charming, long gone, spotty factory craftsmanship as any bugs have been long worked out. The recent usual air, gas and spark chores included: new Dunlop K70s; Amal 626 and velo stack; throttle/choke/clutch cables; brake job, wheel and steering bearings greased; fresh clutch kit; replacement Lucas wire harness sans smoke, battery, rectifier/diode combo; fork boots, wider western bars, grey grips; tach, drive, cable and wheel spacer; all fresh fluids, gaskets as needed. Cosmetically, all three tanks repainted. Frame is still original stovepipe dip and gas tank remains unlined, only etched and industrial primed without issue but new cocks. Mid-sixties seat swapped in to match wider bars for a more relaxed riding position. The earlier taillight housing merely a minimal preference. Just. Right. ORIGINAL PARTS, HIDDEN AWAY FOR KEEPS: As interchangeable as a Triumph is between model years, these original parts as delivered on bike, are boxed and included to bolt back to stock trim as desired: Front stainless fender with brackets and bolts; C model (braced) handlebars and steering lock; speedo, cable and drive; carburetor and air cleaner; seat, grab rail and D.O.T. tail light housing; exhaust mufflers and heat shields, (but no fish-n-chips basket); skid plate and new centerstand with hardware. Rattled off lost along the way were the amber reflector set, rear view mirror and that deep fryer chip basket, to be hunted down on the side of a few roads back. WHAT GOOD IS ANY OF IT IF IT CAN'T BE SHARED? The 500 is now a jump ball, ready to pass around again. Of course, any goodwill mechanical spares discovered along the way get folded in, including Owner's/Workshop manuals, a minty sales brochure and period road test articles. Just stay off the grass, in the toolbag. It's way past stale. So get going. Take it easy, but take it. "The river flows, it flows to the sea. Wherever that river goes, that's where I long to be. Flow river flow. Let your waters wash down. Take me from this road, to some other town." Life can't ever pass you by as long as there are Triumphs, rolling gentle across our minds.On May-12-22 at 18:39:05 PDT, seller added the following information: PS: (From skunkishfunk) Hi there,Are you willing to say what the reserve is? I'm in NY and am interested. Thanks, JH (Reply) Funk brother number one, Thanks for asking but I've got to make good on the promise to a few of the old dogs and let the auction run its full course. Not only do they wear their colors for business meetings and social calls, but they sleep in them, too, fully loaded. I enjoy brushing my teeth every day and jumping on two functioning legs, especially the one that I rely on to kick start. Stay friends with these gentleman and they'll aways remind you of the Golden Rule, or parts get scattered to kingdom come. We'll let this one roll straight down the middle in broad daylight, ending up a few more bucks than a blue tarp and milk crate yard sale special, and a restored gem that never gets used. I don't want to get in a pickle, just want someone else to ride this moto-cicle. Even Arlo knows! Save your smile, kneecaps, time and money, buy one done. Or pretty damn close. Ubet! —- (From 19621998) Awesome description, a great writer, you ought to write a book. Well said!!! (Reply) Dear Nineteen sixty-two through ninety-eight, Every library today has a book on a shelf that can offend just about everyone and I'm sure I could make the top ten. Better we all stick to old magazines where the centerfolds are dangerous but they won't be avoided. Even better, the accompanying articles, reviews, opinions and stats are where it's at. Ubet!On May-16-22 at 19:13:14 PDT, seller added the following information: —— (From defra-dom) Hi, Is the tank black or purple? A little hard for me to tell from the pics. Thanks, Dom (Reply) Dear Dom,The paint color and code for a 1970 Competition model 500 was purple, Jacaranda purple, a dark metallic violet that when seen in low light shade, appears practically black, but once in full sunlight, is the surprising sparkling purple of grape juice, fizzed, shaken, frothy and poured. Pure Welch's Grape Juice. That's Jacaranda purple. A vintage late sixties/seventies color that was everywhere, on notebooks, shirts, crayons, the regal jackets and scarves of Jimi Hendrix and hanging with Ronald McDonald, as his friend Grimace. Purple is passion, a magical color, perfect for a free revving 500 Trumpet. Ubet! —- (From htvintagecycles) Hi,I am really interested in this vehicle. I made bids few times but it has not reached the reserve price. Would you mind letting me know your reserve price? I am really keen to purchase this vehicle.Thanks,htvintagecycles Sinagawa-ku, Tokyo, Japan (Reply) HT!Thanks much for your keen interest and enthusiasm for this unusual, intact and rare Triumph that embodies the spirit of Triumph's racing program in the heyday of the sixties, when the British manufacturers were king, just before heading to extinction. I'm all for preservation and protecting of a solid, surviving example to actually use on occasion and enjoy every day. So many of these bikes were used hard, destroyed and destined to parts scattered across boxes, crates and garages, never to be whole again. The Reserve price is respectfully more than the cost of boxes of random parts, but way less than a full restoration cost. The final bid is really paying for the storage and protection over the years, and the bike is given in for free! The motorcycle needs a good home, and the current bidding is closer to winning every day. Please bid what is comfortable for you, and not any more. That's it's value, not the price. It's value is what someone is willing to pay… I am reasonable and may reduce the Reserve soon so that someone else can surely take over and protect it. No one ever owns these delightful things, they just get shared among friends. Kind regards! Ubet!
Where This Motorcycle Is Located
Garnet Valley » Pennsylvania » 190**

---